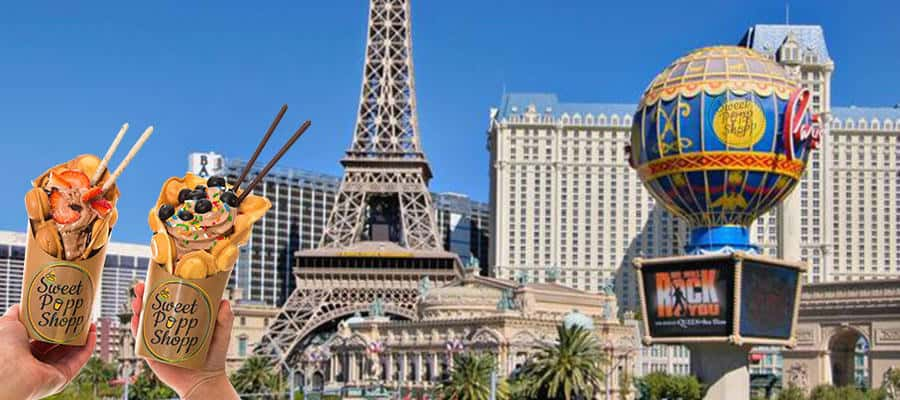 Sweet Popp Shopp Treats and Las Vegas Hotels: What they have in common.
Sweet Popp Shopp Treats and Las Vegas Hotels: What they have in common.
Las Vegas is famous for its themed hotels. Every dazzlingly-lit inch of the experience, from the carpet to the entertainment to your room, is carefully crafted to build a beautiful illusion of Paris, Ancient Egypt, or Italy, to name a few. Walking through your hotel, everything works together toward the beautiful illusion that keeps you coming back. Even the food you eat in the hotel alludes to the theme. Sweet Popp Shopp's delicious and unique treats have perfect counterparts to your Vegas stay, so you can stay immersed in the carefully crafted world while enjoying your treat. Try a few of the hand-crafted, delicious sweets below to see what I mean, or visit the shop and check out the delectable options.
1. Caesar's Palace: The Roman Empire was not exactly known for its restraint and self-control, so the delicacy you choose should match the Emperor's luxurious tastes. No dessert says, "Royal decadence," quite like Red Velvet Fudge. Pick up some from Sweet Popp Shopp to share in the forum or conquer it all on your own.
2. New York, New York: The best thing about this hotel is feeling like you're in the middle of Manhattan without worrying about getting hit by taxis. You can enjoy your authentic-tasting New York hot dog while sipping on a Sweet Popp Shopp soda drink. Choose the "Jersey Jam" and congratulate yourself on getting all the joys of NYC without the traffic jams.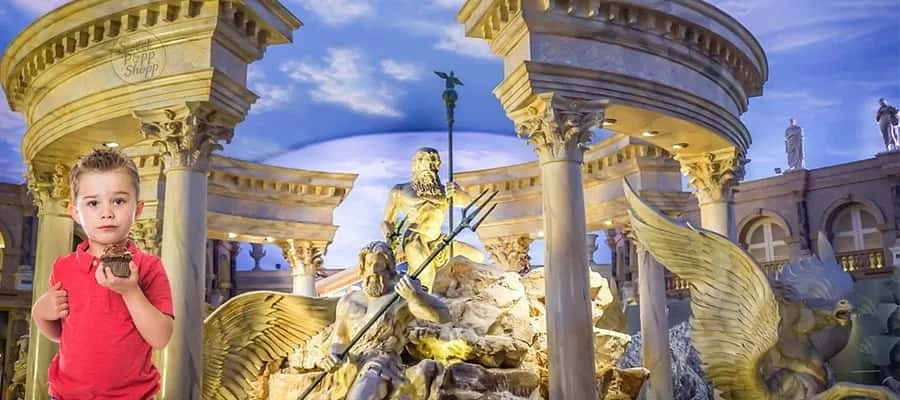 3. Paris, Las Vegas: The city of love and lights is famous for its inspiring beauty, extravagant history, and risque entertainment, all perfectly suited for the Las Vegas strip. But for all its positives, the best thing about Paris is the pastries, and one of the best things about Sweet Popp Shopp is the newly available puff waffle. Drizzle strawberries and blueberries over your puff waffle custard, or drench it in Nutella, and you'll have a fluffy dessert to give even the famous Parisian crepes a run for their money.
4. Rio: This Vegas hotel is all feathers and bikinis and beach-vibe parties, just like the real Rio. Feel transported to the fun-loving tropics with a Lime Coconut cupcake from Sweet Popp Shopp. The vanilla lime cupcake, frosted with buttercream, is topped with a lime and a straw, so you can imagine you're laid back on the sand, sipping a pina coladas, watching the sun go down before another wild night in Rio.
5. Planet Hollywood: You might party like a film star, but no movie night out is complete without popcorn. Sweet Popp Shopp's gourmet popcorn comes in twelve fun flavors, plus three seasonal flavors available this fall: caramel apple, caramel cappuccino, and fall spice. With so many choices, you'll no doubt find the perfect popcorn for your Hollywood ending, but if you're looking for the A-list treatment, you can request a new flavor as a special order popcorn.
No matter what hotel you pick, Sweet Popp Shopp has the perfect cupcake, waffle, fudge, soda, or gourmet popcorn to complete your stay. Come visit and find out why we're the Sweetest Bakery in Vegas.